Maribel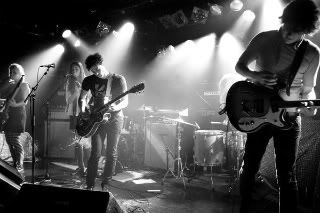 Myspace
//
"Ecstatic"
[Audio] //
Aesthetics
[Buy]
Lately, it seems that a simple analogy could be used to sum up the musical preferences of two of the Scando territories: Sweden is to sunny pop what Norway is to dark shoegaze. Norway has taken over and added to this decade's shoegaze, especially when you look at bands like Sereena-Maneesh, Simon Says No, and the Megaphonic Thrift.
Add to that list Maribel, who just recently released their debut album (out now in the US and Norway), who take fuzzed out dreamscapes to a new and exciting level. Long-player

Aesthetics

is nine tracks (plus a bonus song only available on a Norwegian 7") of what we have come to love from this genre. Now the next thing we want to know is this -- when are you coming to the States?
Labels: Maribel, Oslo, Simon Says No