The Capes: Interview
By Christine Ernest
An ocean separating them from their original stomping grounds, The Capes are a band comprised of four lads giving it all during their first United States tour.

The quartet hails from South London that has produced artists such as Bloc Party, Art Brut and Clor. The Capes' sound is reminiscent of the modern day underground darlings Maximo Park and Super Furry Animals to everyone's pop favorites The Beach Boys.

Since bands have been crossing the big sea to do US tours, there has been the cyclic nature of American musical artists listing their influences as being European and vice versa with many Brits claiming the Americans as their sources of inspiration for at least four decades.
"There's always been that type of cross-pollination…The Beatles and The Stones were influenced by an American kind of R&B and Chuck Berry and stuff like that. They produced their stuff, which in turn influenced a load of bands over here [in England] like The Byrds. In turn, The Beatles kind of ripped off some of The Byrds sound. It kind of goes back and forth all the time. I think it's always been like that," said vocalist/guitarist Kris Barratt.
Each year, many European bands make their way into the United States to try their hand at pleasing the crowds and winning new fans over.
The Capes have left their home of South London and are currently in the middle of touring the United States in support of their debut album. Entitled "Hello," their first official US release is a mix of art-rock, giant guitar lines in a form of pop most wouldn't realize they were missing from their lives.

"It's [The Capes US tour] been amazing, and surprisingly even in small towns. You might think people might not be so receptive to an English band, but the reactions been great. Everyone's been really hospitable and we're looking forward to the next tour," said Barratt.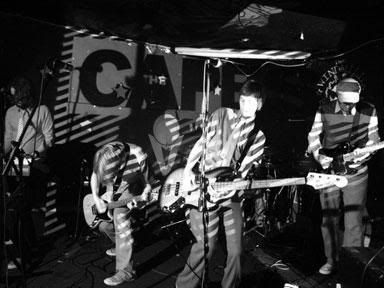 Even though the Capes have been receiving positive fan reception in their tour stops thus far, some venues in the United States have certain preconceptions about them. For example, New York is sometimes labeled as a "tough" crowd because the audience is more than likely composed of the elite – record label executives, promoters and fans that are just hard to please.
"London is as well [a tough crowd as is New York City.] New York is quite similar to London in that way. It's really similar actually. People kind of tend to stand there with their arms crossed and kind of nod and just kind of clap quite quietly in the end. It gets kind of discerning for us. We've [The Capes] only played New York City once," said Barratt.
Differences between the audiences in the United States as opposed to audiences in the United Kingdom are as important as getting the band out there and touring in the first place. When touring, the way audiences react to a band's performance night after night can make or break their career.

Not all crowds turn out to be hard to please in the United States.

"I found it [playing shows] to be a lot better over here. Before you were asking quite specifically about New York, and I found that to be kind of quite similar to London. But everywhere else that we've played has been amazing. Completely different actually."

Just like with other forms of entertainment, when a person pays money to attend a concert in the United States they are usually going to see that show because they want to support the artist.
"I guess people [in the United States] are just a bit more appreciative in a way. Well they let it be known that they like your stuff. In the UK, people just kind of nod their head and clap politely in the end. But here [in the United States] they actually whoop and howl and dance and show you that they're getting into it, which is great. You can play off of that and get into it."

Audio: "Supergirls"

[Christine Ernest is the music director at WYBF at Cabrini College in Radnor, PA. She will be a regular contributor to Exitfare, so e-mail her to let her know she rulez!]