Giant Drag: Interview
By Dany Sloan
L.A. duo
Giant Drag
, comprised of Annie Hardy and Micah Calabrese, have been bouncing around the scene for a couple of years. Their debut release,
Hearts and Unicorns
dropped earlier this year, and showed frontwoman Hardy in many fierce poses, not unlike P.J. Harvey or Liz Phair. They are a band that are good for what they are -- there is no bandwagon-jumping going on here. Hardy and I chatted on the phone last month, mostly about the band, but also a little about how much the weather in Boston sucks in the winter.
Dany:
How did you get into music?
Annie Hardy:
My mother was a playwright and she would have rehearsals at home from time to time. In fifth grade, there was one that was for a musical, and this guy played guitar, you know stuff that was "cool" at the time like Pearl Jam. I finally learned how to play guiatr in tenth grade in boarding school.
Dany:
How did you meet Micah? How is it playing as a duo?
AH:
Micah worked for my mother, and he started recording some of my songs and we got along well. Since he knew the songs the best, we just started playing together. Working as a duo, it's cheaper and we save money, plus we can write songs fast. We pretty much get along most of the time and it makes touring easy, too.
Dany:
Many of your lyrics seem to have harsh words directed towards your exes. Have you been involved with a lot of assholes in the past?
AH:
When I first started writing, that was the easiest to write about, and I really focused on the major heartbreak. My newer songs are more introspective.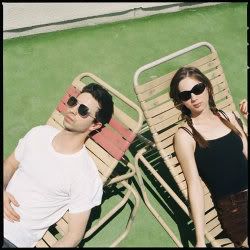 Dany:
How did you hook up with Kickball?
AH:
I got a very good feeling with Kickball and they seemed to have the most to offer us. We have had no problems with creative control.
Dany:
I heard you recently played a show with Echo & the Bunnymen. How was that?
AH:
I didn't get to meet the band and there was a dressing room debacle. I actually thought they boring, and it was nice to have fans come up to me and say that they thought Giant Drag were better than Echo.
Audio:
"Kevin Is Gay"
Video:
"This Isn't It"
[Quicktime]
Video:
"Kevin Is Gay"
[Quicktime]
Buy:
Hearts and Unicorns
at
Insound