The Brakes: Interview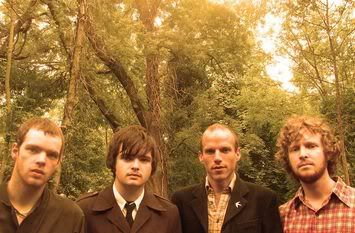 By Christine Ernest
Proving the world cannot have enough side projects, the
Brakes
are four guys who just can't stop making music. Comprised of one part
British Sea Power
, one part the
Tenderfoot
and two parts the
Electric Soft Parade
, they formed back in the summer of 2002.
Even though the Brakes can be considered a side project, it definitely does not mean it is going to be put on a back burner for their original bands.

"For me, my band Tenderfoot is taking time off for the moment so I'm mainly concentrating on the Brakes. It's probably hardest for Eamon, [of British Sea Power]," said Brakes' bassist Marc Beatty.

"British Sea Power is just coming to the end of promoting their album that just came out…There's probably a bit of a window for the Brakes to do a bit more stuff in. We want to get another album recorded, and we want to do some more touring. We want to go around Europe, but we definitely do want to come back to the United States…I've already asked somebody [at Rough Trade] if we can play SXSW. I said what does it take for us to play SXSW and they all you have to do is fill in the form. So hopefully we'll be out in Texas and I heard Texas is a really great place to play live," said Beatty.

The Brakes dropped their US debut album just a few months ago. Entitled Give Blood, the foursome blitz through 16 songs in just over an hour to produce an album that cuts straight to the point; these Brighton boys mean business.

Perhaps one of the most memorable songs from the album is "Heard About Your Band" where singer Eamon Hamilton sings about sharing cabs with Yeah Yeah Yeah's singer Karen O. to meeting Electralane and knowing a lot of people in the industry in which his response to all the bragging is, "whatever dude!"

"The song ["Heard About Your Band"] is about when Eamon went to see them [the Yeah Yeah Yeahs] play and he met this guy there and he was bragging how he knew her [Karen O.] and stuff. It's more about the kind of people you meet at gigs in London…the hangers-on, there's like scenesters…they like to tell you about what they do and who they know. These people they go to these gigs and they're not actually there to actually watch the music. They're just there to be seen and to make sure that people know that they're there," said Beatty.

The Brakes are currently set to tour in support of Belle and Sebastian in January and February followed by a set of dates in support of everyone's favorite new buzz band the Editors. The Brakes did make an appearance in New York City back in October.

"[The Brakes' show in NYC was] pretty good, it was pretty full I think it was at maximum capacity. We had some people down in front singing along which was nice, which I wasn't expecting. It was really good especially since I heard New York crowds are really difficult and they never really give anything away…if they don't like you they won't clap and stuff, they're kind of cold like that. From what I could tell, people were having a good time and getting down to it," said Beatty.

"The one thing I'm not yet used to over here is that you can't smoke in the venues…it's quite strange for me, not being in a smoky atmosphere…usually the place is filled with smoke and people are having trouble breathing. It makes the atmosphere a whole lot more unpleasant, but not unpleasant in a bad way. Unpleasant in a good, kind of grimy way…other than that I don't know, I've only done one gig here so far so I can't really compare…I've heard from British Sea Power that have toured over here a lot that generally the venues are better equipped and are a better standard of PA systems and stuff like that. England there's a lot of bad venues, a lot of dives."

Hopefully the Brakes will come back to tour the US again soon.

"Part of the reason why we came over [in October] is to make a few contacts and to get people to see us so there's a bit of a demand of it so we can come back sometime next year…It would be good to do a proper US tour. I don't think we're known about enough to do a headline tour of the US, but maybe if we could support someone…another British band or maybe someone American…I wouldn't mind [touring in support of a British or American band.] I actually prefer American bands to British bands myself…I just prefer American music. There are a lot of bad indie English music at the moment. It's all pretty bad. It's just my personal preference, I prefer American bands to English bands," said Beatty.


Audio: "Heard About Your Band"
Video: "All Night Disco Party"

[Contact Christine
here
]
For those keeping track, this is Exitfare's 100th post.