Alan Pownall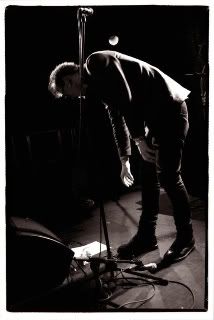 Myspace
//
"Love Lockdown"
(Kanye West cover) [Audio] //
"Single Ladies (Put a Ring on it)"
[Video]
Jumping feet first into the burgeoning and crowded new English folk scene, Londoner Alan Pownall has already made a name for himself via his unique takes on pop hits from Kanye West and Beyonce, but come 22 June, listeners will be able to look past what some may call gimmicky moves when
Young and Lost Club
releases his debut single.
You can hear "Clara" now on his Myspace, an engaging tune that is flush with an enigmatic quality that brings to mind Johnny Flynn. Pownall is currently at work on his debut album, which has a tentative release date of early 2010, and as well, he'll be playing select dates this summer.
22 June @ Ronnie Scott's / London (single launch)
18 July @ Latitude Festival sunrise arena
19 July @ Love Box Victoria Park
24 July @ Secret Garden Party
16 Aug. @ Bloom Festival / Bristol
(Additionally, I have added a number of new sites to the blogroll -- they're sites I've been reading for quite some time, but I haven't had the chance to give them their due yet)
Labels: Alan Pownall, London