SXSW 2k7 Preview: White Rabbits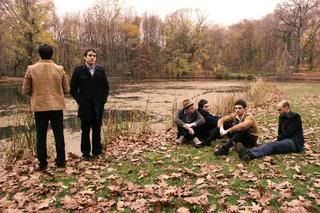 [Photo Credit: D. Yee]
"I work hard so we can have nice things."
Sometimes lines can stick out, and often it won't even be part of the chorus or an important line, but the line still resonantes in some way. "The Plot," from Brooklyn band
White Rabbits
, is a beautiful jangly mess that is filled with good things, but it's that one line that grabs me each time, and not quite sure what it is. At times the band brings to mind Cold War Kids or early Walkmen, relying heavily on the soulful Brits of yesterday, when Elvis Costello was at the top of his game. They are the last band I profiled in 2006 and I am absolutely confident that they are going to be huge this year. Be sure to check them out at SXSW and look for

Fort Nightly

, which is out on May 22nd through Say Hey Records.

03/14: Dirty Dog Bar [ASCAP Showcase] 8 pm
03/15: Room 710 [SXSW Loose Record Party] 12 pm

[Myspace]
White Rabbits
[mp3]
"The Plot"
[mp3]
"Kid On My Shoulders"