SXSW 2k7 Preview: Air Traffic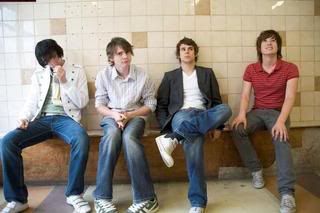 I suppose this is the part where I say something witty or tell some long, meandering story about how I found this band, but it's not going to happen today. I am sick, I am tired and let's just say that a shrewd insider clued me into these guys, and I am glad he did! Air Traffic play a sort of piano-led indie rock that is much more exciting than Keane that has caught the ears of all of the great British tastemakers, like Zane Lowe, Jo Whiley and Steve Lamacq. Their first single came out on the ultra hip Fierce Panda label, while a new single "Charlotte" hits stores this month and a debut album slated for this summer through EMI. They are playing a few shows at SXSW, including the Hell Ya! show [03/15] and their official showcase that same night at 11:40 at The Rio at 301 San Jacinto Blvd.


"Never Even Told Me Her Name"



[Myspace]

Air Traffic


[mp3]

"Charlotte"


[mp3]

"Just Abuse Me"