SXSW 2k7 Preview: The Automatic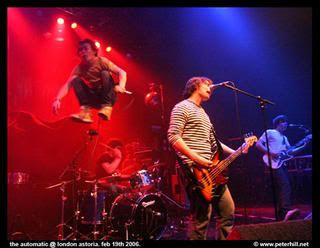 Does being Spin's Band Of The Day really mean anything? There are a lot of bands out there, so to be the #1 band of the day it's pretty sweet, but you have 365 other bands to contend with throughout the entire year, right?

If there's one band that can graduate from Band Of The Day to much greater things, than it's Welsh group The Automatic, who dropped their debut disc last year in the UK through B-Unique, but now it's time for them to take over these shores. I know this is going to sound corny, but

Not Accepted Anywhere

[out this June through Epic] is full of hits. The chorus of "Monster" is one that won't leave your head for days, and "Raoul" and "Recover" are no slouches either, coming from the classic Brit-rock school, but giving nods to both new wave and punk. The band's official SXSW showcase is tonight at Stubb's [801 Red River St.] at 9 pm. This show is going to be packed, as Lily Allen, The Sunshine Underground and others are playing, so show up early. They'll be playing the Warped Tour this summer, too.



[Myspace]

The Automatic


[mp3]

"Recover"