Sister Love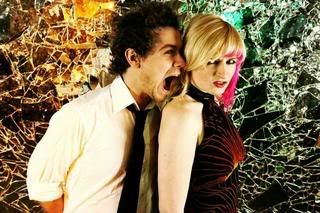 [Photo Credit:
C. Schramm]


Unlike Dany, I don't get to go sunny Austin for SXSW so I refuse to cover a band playing said festival. Not that I'm bitter (ok I am), it's more that I've really wanted to talk about
Sister Love
for weeks and haven't gotten a chance to put pen to paper. Hailing from the beautiful city of Cologne, Germany, Sister Love is a totally killer little electro pop band. Their songs are driven by synthesizers and electronic dance beats, accentuated by a vocalist who reminds me of Nina Persson of
The Cardigans
and Jill Cunniff of
Luscious Jackson
. Their uptempo songs "Smack Smack" and "You're Sweet But I Won't" are perfect for the dancefloor, but don't be fooled--this band is not a one trick pony that can only produce syrupy pop songs. "Let It" and "Rockshow" are two devastating downtempo numbers that would be the perfect soundtrack for sinister things like slitting your wrists or anonymous sex.
[Myspace]
Sister Love
[mp3]
"Smack Smack"