The Horrors @ Great Scott [Tonight!]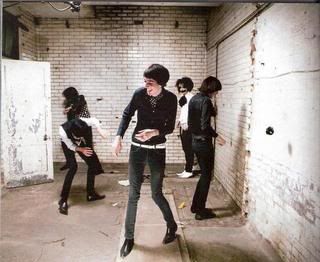 I am still not sure how I feel about The Horrors. While they may make some questionable fashion choices and I am bored of all of the hoopla surrounding them, they still have some pretty great songs. At times they bring to mind The Cramps or The Damned, but only time will tell if they are for real. May 15th should be the day of reckoning here in the States, as their debut album

Strange House

is released on Stolen Transmission. If their EP was any indication, if you focus on the music rather than the hype, you're in for a treat, as the band is excellent at crafting catchy, goth-tinged punk rock, and they're a band that is ace live. The band plays Great Scott tonight with Brooklyn's stellar Favourite Sons, as well as a host of SXSW and LA dates.

March 15th: Red Eye Fly- Austin, TX
March 16th: La Zona Rosa- Austin, TX
March 17th: Emo's- Austin, TX
March 19th: Echo- Echo Park, CA
March 20th: Cinespace- Hollywood, CA


"Count In Fives"



[Myspace]

The Horrors


[mp3]

"Count In Fives"


[Video]

"Count In Fives"