Pretty Boys: Contest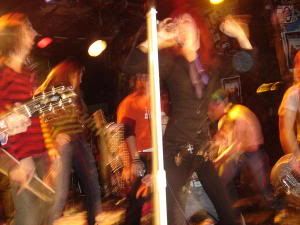 Brooklyn group

Pretty Boys

have been ramping up for something big all this year. The right people on both sides of the pond are buzzing about them, they consistently play sold out shows and their songs are spreading like wildfire across the internet. They have so much going for them, yet they are without a label or a manager or lawyer, but things keep going right for them.
They were just selected out of a ton of female bands to participate in a contest through Glamour magazine. The winner will star in their own music video which will premiere on MTV in January 2007, and it will be for one of my favorite singles of the year -- "Hello Bonjour." Right now you're probably saying to yourself, "Wait, I didn't know that MTV actually played music videos?" They do, and I would love to see Pretty Boys in regular rotation. You can vote for them below. The contest closes on August 14th and the winner will be announced in the February issue.
Buy:

Ghetto Rock [their debut album]
Contest:
Vote for Pretty Boys here
MySpace:
Pretty Boys
Audio:
"Hello Bonjour"