Boston: Shows [Week of 07.10.06]
This past week was an exciting one, capped off by a thrilling World Cup final today where Italy defeated France and ignited a small riot in the pool hall where I was spending my afternoon. Not too happy with this year's cup, as it was rife with awful officiating and poor play from a number of the Premier League players I follow.
I am back in Boston and still kind of tired from a full day of travel yesterday. My three days in LA were great, but busy. I caught the Dodgers, The Rentals, took a drive on the Pacific Coast Highway, rocked a quiz night in Santa Barbara, played the tourist and enjoyed the weather. Best of all, I got to see friends and drive around a city that actually makes sense to get around. Look out for some pictures from my trip tomorrow.
7.11: The Impossible Shapes/The Late B.P. Helium @ Great Scott
07.12: Pete Yorn @ The Paradise
07.12: Silent Service @ Great Scott
07.13: Mission of Burma @
The Paradise
07.14: Don Caballero @ Middle East Down
07.14: The Weakerthans @
The Paradise
07.15: The Mendoza Line/Dressy Bessy @ Great Scott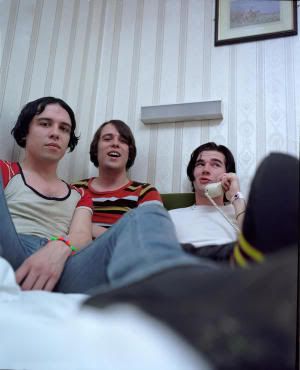 07.16:
The Cribs
/
Unbusted
@
Great Scott
I had known about The Cribs for awhile, but I only started looking into them last year when I picked up the "Hey Scenesters" single on a whim, but the following week I was doing everything I could to track down their just released in the UK sophomore album. I loved the lyrics [they are snarky] and I loved the music [it's catchy and sort of dancey]. Last time the band was in town, they were opening for Franz Ferdinand and I didn't want to deal with that craziness, but this time around, they are playing a short walk from my house, giving me a rare reason to not watch baseball on a Sunday night!
Audio:
"Mirror Kissers"