Boston: Shows [Week of 05.01.06]
05.01:
Barnicle
@ T.T. The Bears

05.01: The 8mm Fuzz/The Daily Pravda @
Great Scott



05.02:

Measles Mumps Rubella

@

Great Scott
Washington DC has always been known for its adherence to the sound of dissonant guitars, but the last five years has seen bands like

Black Eyes

,

Q & Not U

and

Faraquet

stretch their guitars in new and innovative ways. MMR goes one step further by throwing a heavy bass and experimental approach into the mix.


Audio:

"Fantastic Success"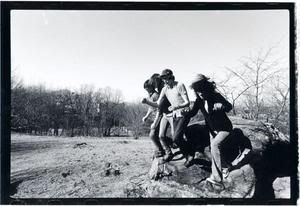 05.04:
Protokoll
/
Barnicle
@
Great Scott
Protokoll is one of the best bands that Boston has to offer, and before they sail off to the UK, they are saying goodbye in style. In case you care, I'll be the one rocking out up front.


Audio:

"Holy Divine"

05.04: Prefuse 73/Edan @ The Paradise

05.04: The Saints @
T.T. The Bears

05.04: Apollo Sunshine @ Middle East Down


05.06: Pinback @
The Paradise

05.06: The Lot Six @
Great Scott

05.06: Isis/Dalek/Zombi @
Middle East Down