The Hard Tomorrows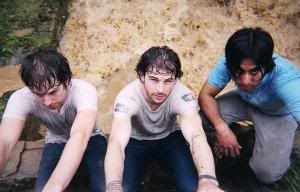 I'm in DC right now -- I took the day of off work so I could have a long weekend relaxing, taking in shows, and most importantly, catching a Baltimore Orioles game or two. DC has always been filled with great bands, but the ones that always get the most attention are those that are on Dischord and associated with that scene. Those bands are great, but there are plenty of other bands that are kicking it in the city.

The Hard Tomorrows are one of those bands that create a sound that doesn't fit into the dissonant post-hardcore box. This five-piece crafts jangly, sometimes jagged power pop that easily transcends any scene or genre. They have a bunch of shows coming up in the Northeast Corridor, plus a full-length that is almost ready for public consumption.

May 3 2006 Polly's Cafe - Free Show (Rob acoustic) Washington, DC
May 10 2006 Arlene's Grocery New York, NY
May 17 2006 The Black Cat Washington, DC
May 24 2006 The Manhattan Room Philadelphia, PA
Jun 3 2006 R&R New York, NY
Jun 9 2006 Sonar Baltimore, MD
Jun 23 2006 Pianos New York, NY
MySpace:
The Hard Tomorrows
Audio: "Jaywalker"