SXSW 2k8 Preview: Friday Picks
Myspace
//
"Crimewave"
[mp3]
I don't really get
Health
, their music is pretty out there. It's noisy and challenging, amelodic and weird... but their rhythms are absolutely mind blowingly ridiculous and I find myself listening to them on repeat in spite or maybe because of the weirdness. Health are playing everywhere today, hitting the Village Voice party at La Zona Rosa at 12pm, The Side Bar at 4pm, and The Flamingo Cantina at 12:20am. Hit the late show, the booze drenched atmosphere will probably make it their best set of the night. On Saturday, you can catch them at the
SESAC Day Stage Cafe at the Austin Convention Center
at 2pm, the Paste Magazine / Stereogum party at Volume at 4pm, and the Todd P party at Ms. Bea's later at 7pm.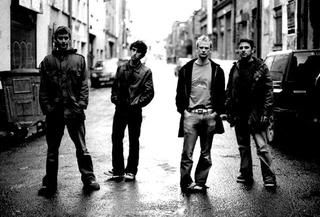 Myspace // "Stop" [mp3]

Delorentos released one of my absolute favorite albums of last year,

In Love With Detail

. The Dublin based four piece play an upbeat brand of indie rock with big riffs and even bigger melodic choruses. Unless you're nursing a serious hangover, you should check out their short set at the SESAC Day Stage Cafe at the Austin Convention Center today at 12:30pm.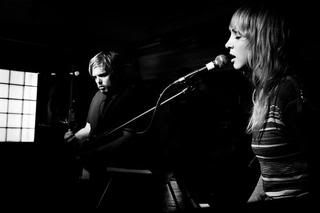 [Photo Credit: Kirk Harrington]

Myspace // "Need Your Needs" [mp3]

Recent Saddle Creek signees Georgie James are bringing their infectious indie pop to a million different shows this year at SXSW. Expect gorgeous male-female harmonies over top of saccharine sixties influenced pop instrumentals. Today they'll be playing both the SESAC Day Stage Cafe at the Austin Convention Center at 2pm and The Orchid at 4pm. If you can't fit them into your busy schedule, you'll have another shot tomorrow as they'll be performing at Emo's IV Lounge at noon and the Dirty Dog Bar at 7pm.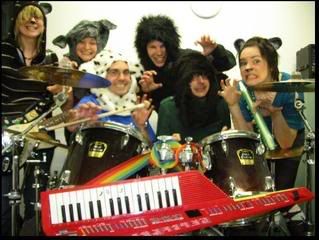 Myspace // "Steven Fucking Spielberg" [mp3]

I only learned about Bearsuit a couple days ago after tooling around the SXSW website for a few hours. With orchestral and electronic elements intertwined with arty and punk rock sensibilities, their music is a mishmash of weird sounds that somehow comes together in a very poppy way. The weird six piece from Norwich are playing the Piaptk records and HHBTM records party at 5:30pm followed by a set at the Thristy Nickel at 10pm. Tomorrow, you can see them at the KVRX Radio stage at 12:30pm and Waterloo Cycles at 3pm.



[Photo Credit: Rett Peek]

Myspace // "Real Love" [mp3]

Little Rock's American Princes are set to release their third album

Other People

on April 15th. The band has said that their "goal with this record was to create something bigger and more ambitious than anything [they'd] done prior," something that clearly shows on their lead off single "Real Love" with its full layered sound, big sing-a-long chorus, and heavy lyrics (
"I don't care about real love, I just want a world that will bear its own weight"). You don't want to miss their electric stage show, you can catch them twice today at the Yep Roc / HARP Magazine party at the Dirty Dog Bar at 5pm and the Yep Roc showcase at The Ale House at 11:50pm.