SXSW 2k8 Preview: The Pigeon Detectives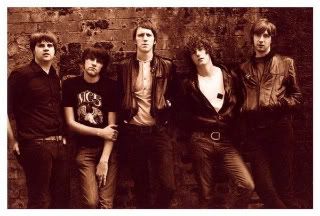 [Photo Credit: Ami Barwell]
Myspace
//
"I'm Not Sorry"
[mp3] //
"I Found Out"
[Video] //
"I Found Out"
(Original Version) [Video]
While the labels keep shoving shitty albums down our throat,
The Pigeon Detectives'
great debut album,

Wait For Me

, still has yet to be released in the States. I guess it's not too big of a deal because the record is easy to track down online, but it's a shame because these deserve an American audience bigger than a few thousand. The guys aren't really worried because they're all set to release a new album,

Emergency

, on May 26th, which will be preceded by the single "This is an Emergency" on May 12th. They remain on the absolutely flawless Leeds label
Dance to the Radio
. They'll be doing a full scale tour around the single/album release in the UK.
Best news of all is that the band will be back in Austin for SXSW this year. Perhaps more than 50 people will show up to their showcase this time around.
8 Mar LEE'S PALACE TORONTO, Ontario
10 Mar GREAT SCOTT BOSTON
11 Mar BOWERY BALLROOM NEW YORK
13 Mar 23:45 FRIENDS (SXSW - CLASH MAGAZINE SHOWCASE) AUSTIN
14 Mar 14:00 CEDAR STREET COURTYARD (SXSW - FILTER PARTY) AUSTIN
15 Mar 16:30 DRISKELL HOTEL (SXSW - Q MAGAZINE PARTY) AUSTIN
17 Mar SPACELAND LOS ANGELES
18 Mar CINESPACE LOS ANGELES
20 Mar POPSCENE SAN FRANCISCO
MAY
3 Leeds Millennium Square
4 Leeds Millennium Square
17 Glasgow Academy
18 Newcastle Academy
19 Lincoln Engine Shed
21 Sheffield Academy
22 Manchester Apollo
24 Cambridge Corn Exchange
26 Southend Cliffs Pavilion
27 Portsmouth Guildhall
29 Plymouth Pavilion
31 Bridlington Spa
JUNE
2 Birmingham Academy
3 Brighton Dome
5 Newport Centre
6 London Brixton Academy
"Take Her Back"