SXSW 2k8 Preview: Ox.Eagle.Lion.Man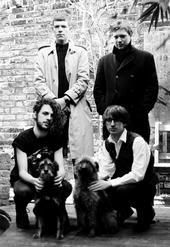 [Photo Credit: Gabriel Loverman]

Myspace // "Motherhood" [mp3]


With a name referencing the apocalypse and a foreboding sound to match,
Ox.Eagle.Lion.Man are clearly an odd bunch of early twenty something year olds.
Recently signed to Transgressive Records, the London band
quickly released a "concept single" in November called "Fatherhood/Motherhood," played some shows, then jumped back into the studio to start recording an EP. According to their Myspace blog, the EP may or may not be a 25 minute opus divided into five movements but should see the light of day sometime later this spring.


In supreme contrast to many of their contemporaries in the United Kingdom, Ox.Eagle.Lion.Man seems to have no interest writing about drunken make-out sessions and instead delves into deeper issues like the complexities of fatherhood and motherhood. With a dark, expansive sound, the band experiments by mixing
noise together with disparate elements like heavy metal, epic rock, and the most current indie rock. The ultimate result is really intelligent music that somehow is also melodic and enjoyable. I wouldn't be surprised if they're one of the breakout bands from SXSW this year, so make sure to hit their shows early.

Tour Dates:


Mar 8 2008 - Club Shoo @ Sin (Central London)
Mar 13 2008 - Transgressive Records BBQ (SXSW, Austin, Texas – 4pm)
Mar 13 2008 - Trade & Industry Showcase @ Latitude 30 (SXSW, Austin, Texas)
Mar 14 2008 - NME Showcase @ Wave Rooftop (
SXSW,
Austin, Texas)
Mar 20 2008 - Not In Kansas Anynore @ Ginglik (West London)
Mar 22 2008 - The Plug (Sheffield)
Mar 24 2008 - Kasbah (Coventry)
Mar 25 2008 - TC's (Carlisle)
Mar 26 2008 - Doc Brown's (Middlesborough)
Mar 27 2008 - Bish Bash Bosh @ Midnight's (Telford)
Mar 28 2008 - Babies @ The Hope (Brighton)
Mar 29 2008 - Long Live Rock n' Roll @ Lennon's (Southampton)
May 16 2008 - Transgressive Records Showcase @ The Great Escape (Brighton)