Illinois, Kaiser Chiefs & Shows in Boston This Week
Although the spring weather has yet to show its face, the spring tours are coming through in full force this week. There are over ten bands I'm excited to check out this week, and it all starts with the Kaiser Cheifs tonight. Their new album is great, leading off with "Ruby," an early contender for single of the year.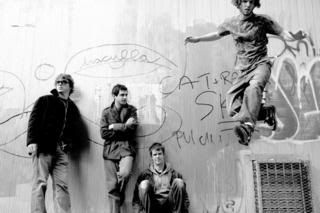 We've been hyping
Illinois
for awhile, and over the past few months, the greater blogger community has started to notice, too. They've just released What The Hell Do I Know? on
Ace Fu
, a solid, but uneven EP that doesn't do justice to the band. If you really want to understand and appreciate these guys, you need to check out a show -- they have an amazing chemistry on stage. Be sure to check the band out tomorrow night because their next show in Boston will be in May opening for The Kooks, which has been sold out for weeks.
[Myspace]
Illinois
[mp3]
"Alone Again"
This Week In Boston
04.09: Kaiser Chiefs/The Walkmen/Annuals @ Avalon
04.10: The Black Angels/Vietnam @ Middle East Up
04.10: Illinois/Desert Sea @ Great Scott
04.10: Pepping Tom/Miho Hatori/Pigeon John @ The Paradise
04.10: Junior Boys/San Serac/Certainly Sir @ Middle East Down
04.10: James Morrison @ TT The Bears
04.11: The Klaxons/Bonde de Role @ Great Scott
04.11; Rasputina @ The Argent Theatre
04.11; The Rocket Summer/Melee/The Early November @ Avalon
04.12: The French Kicks/Mike Fiore [of Faces on Film]/The Subjects @ Great Scott
04.12: Sean Lennon/Women And Children @ The Paradise
04.12: Mono @ Middle East Down
04.12: The Locust/Cattle Decapitation/Daughters @ The Roxy
04.13: Calla/Cloud Cult/Charlene @ Middle East Up
04.13: The Feeling/Mat Kearney @ Avalon
04.13: The Pill @ Great Scott
04.14: RJD2/Busdriver @ Middle East Down
04.14: Mittens @ Great Scott
04.14: M. Ward/Norah Jones @ The Orpheum
04.15: Noxagt @ Great Scott
04.15: The Books @ Somerville Theatre
04.15: Son Volt/Jason Isbell [from Drive By Truckers] @ The Paradise
04.15: Page France/Headlights @ Middle East Up