The Holloways + Shows In Boston This Week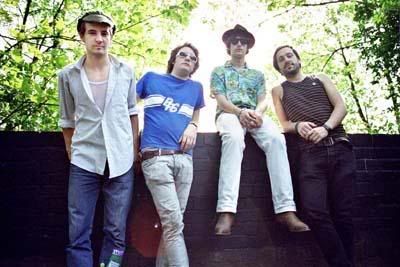 Cut from the same cloth as Larrikin Love and Mystery Jets are London's The Holloways. This London group merge ska-inflected rhythms with quirky, off-kilter pop on

So, This Is Great Britain?

, an album filled with quite a few catchy tunes -- "Generator," "Dance Floor" and "Two Left Feet" are amomg the best. The album has gained accolades in their native UK, and it will be htting the US in late June through TVT.

[Myspace]
The Holloways
[mp3]
"Generator"
[mp3]
Live on KEXP @ SXSW
This Week In Boston
04.02: Hella @ TT The Bears
04.02: Robert Gomez/Kristoffer Ragnstam/Winterpills @ Middle East Up
04.04: Wild Light/So Many Dynamos @ Great Scott
04.05: Battles/Amoroso @ Great Scott
04.06: Sondre Lerche/Willy Mason/Thomas Dybdahl @ The Paradise
04.06: Youth Group/Aqueduct @ Middle East Up
04.06: Adult/Erase Errata @ Great Scott [7 pm]
04.06: The Pill @ Great Scott
04.06: Placebo @ The Roxy
04.07: Low @ Somerville Theatre
04.07: Big Bear/Parts & Labor @ Great Scott
04.07: The Everyday Visuals/Taxpayer/Bleu @ The Paradise
04.07: Xiu Xiu/Shearwater/Casiotone For The Painfully Alone/Pants Yell! @ TT The Bears
04.07: Lily Allen/The Bird & The Bee @ The Roxy
04.07: Iggy & The Stooges @ The Orpheum
04.08: An Albatross @ Great Scott