Cold War Kids: Lithograph Contest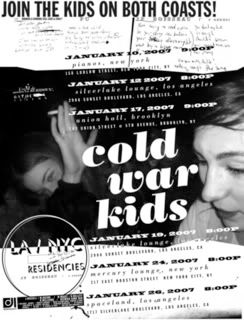 In my just under two years of blogging, one of my favorite finds has been Southern California's
Cold War Kids
. It was hard to pin them down at first, but after repeated listens to their demos slowly drew me in. Their mix of blues, soul and rock became the perfect the soundtrack to late nights out on the town, and I am glad that they've graduated to the big leagues. This is a band that the world needed to hear, and after countless shows across the US and Europe, it seems that people are listening.
Some of you might remember the band's bicoastal residency back in January, and being the artistic types, they produced some killer lithographs. Luckily for us, there are a few of them left over. Be the first person to hit me up on e-mail with your favorite Cold War Kids song, and the lithograph is yours!
"St. John" live in Paris



[Buy]

Robbers & Cowards


[Myspace]

Cold War Kids


[mp3]

"Heavy Boots"