SXSW 2k7 Preview: iLiKETRAiNS
Each year, SXSW is a music lover's dream, and this year will be no different. I've only looked at the schedule for the first day, and I am already overwhelmed! There are just too many great bands to see, so it will be much like last year -- catching as many bands as I can while sustaining myself with Red Bulls and fajitas.
Some of the bands that jumped out at me already include Birdmonster, Illinois, Sea Wolf, Softlighties, Every Move A Picture and Peter Bjorn & John to just name a few, but the first SXSW band I want to touch on is iLiKETRAiNS.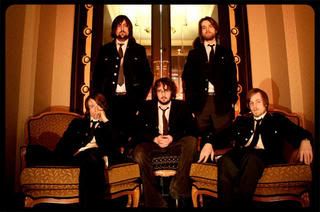 There's something very special going on in Leeds right now, and iLiKETRAiNS is very much a part of that, creating stark historical odes that recall the glorious moments of

Joy Division

and the

Psychedelic Furs

. The band is moody, their sound is atmospheric and lyrically, they are as esoteric as you can get, referencing Captain Scott's Antarctic expeditions and former chess champion and exile Bobby Fischer. I can't wait to check this band out live, as it seems the show is as powerful as the music. The band is playing at 8:15 pm at Emo's Jr on Wednesday the 14th.


"Terra Nova"



[Myspace]

iLiKETRAiNS


[mp3]

"Terra Nova"


[mp3]

"The Beeching Report"