Rademacher: New Album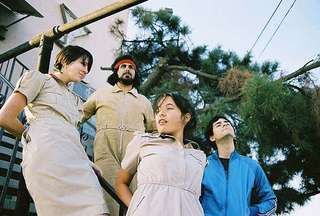 I'm not an expert, but I can honestly say that exciting things don't happen in central California. The San Joaquin Valley is a vast desert littered with farms and migrant workers, but there's not much in the way of culture. It's simply a land of dry and wet seasons, of flat expanses and of a California that never makes it on to prime time TV. At the center of all of this is Fresno, a city of well over 500,000 that shuts down early and has the rules of a small town. While this may not be a picture perfect mecca of artistic expression like Williamsburg or Silver Lake, there are great ideas brewing here.

Fresno is where Rademacher calls home, and while they may not be proud of, they know that it's the hometown which gets the creative juices flowing. The band's first three EPs have reflected this ennui, and it has made for amazing music. This year will see the band drop

Stunts

, their debut album which was produced by

Earlimart's

Aaron Espinoza, featuring all of the things you've loved about them in the past. It's an album full of the greatest leaps and bounds, and a sound that will always be tied to California. It's light years away from Pavement, a common and often lazy comparison that doesn't do the band justice.

Stunts

has moments that are both welcoming and surprising, marrying the loner spirit of

Gram Parsons

with the spark of the

Silversun Pickups

.

Look for the band on the road this March.


Mar 10 Hotel Monte Vista - Flagstaff, Arizona
Mar 11 Atomic Cantina - Albuquerque, New Mexico
Mar 13 The Bean - Las Cruces, New Mexico
Mar 14 SXSW "Plush Day Party" - Austin, Texas
Mar 15 SXSW "Party at Copa Bar and Grill" - Austin, Texas
Mar 17 Andy's Bar - Denton, Texas
Mar 18 Kirby's Beer Store - Wichita, Kansas
Mar 20 Saddle Creek Bar - Omaha, Nebraska
Mar 21 Ernie November's - Cheyenne, Wyoming
Mar 22 Kilby Court - Salt Lake City, Utah
Mar 24 Art Bar - Las Vegas, Nevada
Mar 27 Starline w/ Great Northern - Fresno, California
[Myspace]
Rademacher
[mp3]
"If You Got Some Magic"