Sure Juror & NYC: Perfect Together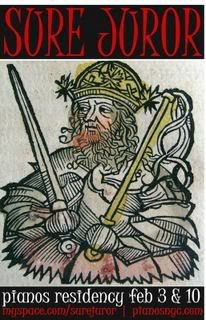 For the next two Saturdays,
Sure Juror
and all of their friends will be taking over venerable LES club
Pianos
. This is how it all goes down:



Feb. 3rd [presented by

I Rock I Roll

]:


The Wading Girl [930]


Sure Juror [830]


Americans [745]
Linifinity [700]

I really wish I could be at this show because the superb and underrated Linfinity is opening, a group that I've written about many times on

Exitfare

. More people need to get on board with them -- it's seriously great stuff, like M. Ward meets The Arcade Fire, but show up early and find out for yourself. Their set may be a solo one that night, but who knows -- show up and be surprised.



Feb. 10th [presented by Exitfare]:


Bridesmaids [1000]


Sure Juror [900]


Age Rings [800]
Care Bears On Fire [700]

Come out for Sure Juror, but also come out because this is the first show I've wanted to put my name on. In addition to the main event, Boston's Age Rings will be opening, playing a gig in the city supporting the release of their debut album.



[Myspace]

Sure Juror


[Myspace]

Linfinity


[mp3]

Sure Juror "Harry Reems And The Bill Of Rights"


[mp3]

Sure Juror "Smut"


[mp3]

Linfinity "Magdalena"