The Rapture: On Tour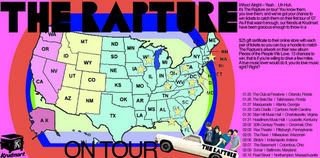 The Rapture is going on tour this winter, with dates starting later this week, and to reward all of their loyal fans, they're giving away tickets to each show. As well, you'll also have the chance to win $25 from Krudmart with each pair of tickets. Visit the link here, and click on the city closest to you.


01-25 Orlando, FL @ The Club at Firestone
01-26 Tallahassee, FL @ The Beta Bar
01-27 Atlanta, GA @ Masquerade
01-29 Carrboro, NC @ Cat's Cradle
01-30 Charlottesville, VA @ Starr Hill Music Hall
01-31 Louisville, KY @ Headliners Music Hall
02-02 Cincinnati, OH @ 20th Century Theatre
02-03 Pittsburgh, PA @ Rex Theatre
02-05 Milwaukee, WI @ The Rave
02-06 Indianapolis, IN @ Birdy's
02-07 Columbus, OH @ The Basement
02-09 Baltimore, MD @ Sonar
02-10 Northampton, MA @ Pearl Street


"Get Myself Into It"



[MySpace]

The Rapture


[mp3]

"Woo Alright, Yeah Uh-Huh"