Johnny Flynn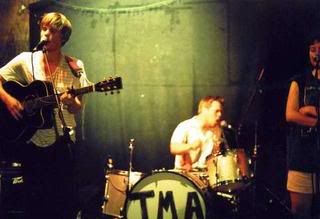 As a rule I rarely fall for blondes or neo-folk musicians, but Johnny Flynn is so incredible both physically and artistically that I'm willing to make an exception. Hailing from the United Kingdom, the young troubadour already has friends in high places--Young and Lost Club will release his first single in February, Transgressive Records has signed on as managers, while artists like Emmy the Great continually champion his merits. It's understandable, because his early demos are incredible and his live performances are spellbinding (look to YouTube for some short clips).
In crafting his songs, Flynn borrows heavily from Nick Drake--appropriating his gorgeous fingerpicking and distinctive thin, melancholy vocals. Not content at mere mimicry, Flynn adds varied instrumentation, lush arrangements, and surprising rhythmic flourishes to create a sound that's all his own.
On "Hello Hello," he mixes folk with elements of the Celtic and Appalachian traditions creating a muddy hootenanny that feels spontaneous, innocent, and oddly uplifting. In contrast, "Tickle Me Pink" is a gorgeous heartbreaker of a song with heady lyrics that implore you to "
pray for the people inside your head for they won't be there when you're
dead"

without seeming contrived in the
least. This kid has major talent, so jump on it before he releases his debut full-length and wins the Mercury Prize.
[Myspace]
Johnny Flynn
[mp3]
"Tickle Me Pink"