New Music For The Weekend
On top of all of the bands I normally discover on the net, my inbox is constantly filled with great new music, so one of the ways I wanted to get some of those tunes out to everyone is this new feature which will run each Friday. It only makes sense to facilitate getting more music out your way!



Lovvers

:

Hailing from Nottingham, UK, they have played with Blood On The Wall and xbxrx and cite Unwound, Rites of Spring and Skull Kontrol as influences. I'm glad that those bands haven't been forgotten about. If you like what you hear, there are three more songs on their MySpace page.


[mp3]

"Let's Communicate"



Emmy The Great

:

It took me awhile to give Emmy a chance, and there was really no explanation. All of my favorite people were talking about her, yet I wouldn't give her a chance. A few nights ago I finally let my guard down and gave her a chance, and that's all I needed. It's not that often that I am struck by a singer-songwriter, but she caught me off guard. The NME describes her as the "honey-voiced angel of British anti-folk," and they are pretty much on spot.


[mp3]

"Paper Trails"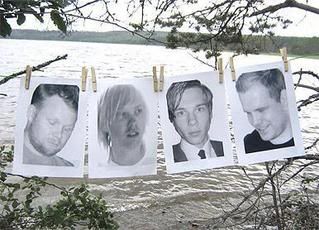 Bedroom Eyes

:

Yet another band with an unhealthy Teenage Fanclub fixation? Maybe, but who says that's a bad thing, plus they're from Sweden!


[mp3]

"Dancing Under Influence"



Peter Bjorn & John

:

I am sure that everyone has heard this song, but if not, now is your chance. As well, the album it can be found on is finally getting a Stateside release on February 6th [with a bonus disc], on Almost Gold. The band will be in NYC on January 29th & 30th and LA on February 1st, but act fast because the first date is already sold out.


[mp3]

"Young Folks"