Keith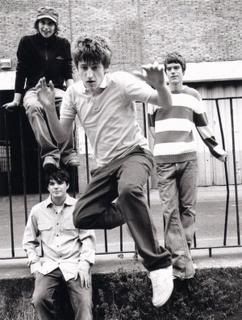 One of the guys in Leeds band Keith has a really awesome brother. Several weeks ago I was sorting through all of the porn and band spam in

Exitfare's

Myspace account and found a nice message from a reader. Instead of trying to get me to listen to some atrocious jam band, Ben was smart enough to urge me to listen to his older brother's band, a band that I've been hearing about for months, but hadn't gotten the opportunity to check out yet.

Their debut album,

Red Thread

, dropped last year and has already gained accolades in both the UK and Japan. Keith is a band that recall the greats, like The Smiths and The Stone Roses, but only as a stepping stone. The moments when they let their own ideas chart the course is when they are the most successful, like on single "Hold That Gun" and "Gunshot Revelry," but honestly, the entire album is great. It's easy to tell that the guys came from different points on the musical map, but were able to deftly meet in the middle. If only I had more readers like Ben.


"Hold That Gun"



[Buy]

Red Thread
[Myspace] Keith


[mp3]

"Hold That Gun"