Underrated Presents: White Rabbits, Sure Juror & Others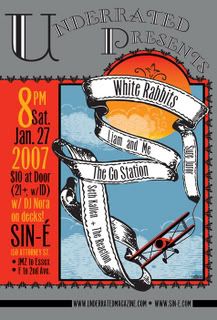 NYC's
Underrated Blog
is bringing the rock [and the beer and the fun] tomorrow night at
Sin-e
with some of this year's best and brightest bands. If I wasn't so busy, and it wasn't so cold, I'd totally make it down to New York for this. The schedule is as follows:

Sure Juror [8 pm]
Seth Kallen [9 pm]
White Rabbits [10 pm]
The GoStation [11 pm]
Liam & Me [12 am]

Anyone who makes it to the end without passing out wins a prize. Seriously! And show up early for Rural Juror.



[mp3]

Sure Juror "Christmas Shopping"


[mp3]

White Rabbits "The Plot"