Boston: Shows [Week of 07.03.06]
Things around Boston are relatively quiet this week as most people and places will be in holiday mode. Later this week will bring in some great shows, as The Rakes will be in town with Every Move A Picture and then one of my favorite new bands, Pela, comes to Great Scott on Saturday. I am going to be lying pretty low until I head out to LA on Wednesday until the end of the week. Anyone who wants to hang out, let me know. The only things written in stone are the Dodgers/Diamondbacks game on Thursday night and The Rentals at the Henry Fonda Theater on Friday.
07.03:
The Teeth
@
Middle East Up
07.05:
Seu Jorge
@
MFA
07.05:
The Court & Spark
/
Shearwater
@
T.T. The Bears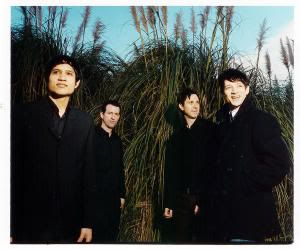 07.06:
The Rakes
/
Every Move A Picture
@
The Paradise
The Rakes need no introduction, but SF's Every Move A Picture just do not get the love that they deserve. With a sound that recalls all of the best moments of dance punk, their debut Heart = Weapn has been getting rave reviews in the UK and they are ready to bring the action to their home turf.
Audio:
"Outlaw"
07.06:
Camera Obscura
/Georgie James @
Great Scott
07.07:
Six Organs of Admittance
@
Middle East Up
07.08:
Dirty on Purpose
/
Pela
@
Great Scott
07.08:
Victory at Sea
@
T.T. The Bears