Apartment

[Grand Palace, Bangkok, Thailand]

After flying for about 18 hours, I arrived in Bangkok, Thailand, late last night for vacation. The city is spread out much like L.A., but unlike cities in the United States there are beautiful flowers on the streets, noisy sidewalk markets, and ornate Buddhist temples everywhere. I'm still terribly jetlagged and quite a bit cranky, so I'll try to keep this entry short.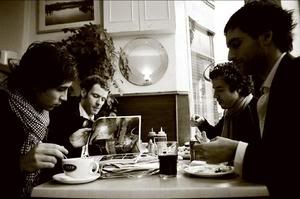 [Photo Credit:
Carina Jirsch
]
A few weeks ago, I wrote about
The Far Cries
and briefly mentioned their fellow label mates on
Fleet Street Records
,
Apartment
. I meant to profile Apartment the very next day as they are a fantastic band in their own right, but, in a fit of absence mindedness, I totally forgot. I seem to do that a lot.

Unlike many of their contemporaries in the post-punk, indie rock, and Brit pop scenes,
Apartment is a band with a knack for playing around with their sound.
Driven by a punchy riff and urgent yells
, you might hear "Taxi" at an indie dance night. In contrast, "Metropolitan Tale" is a bit more understated with David Caggiari's throaty baritone portraying a mix of anger and sadness as he sings, "you promised me I'd be invincible, you promised me I'd be a star." Bridging the gap between these two songs is their new single, "My Brother Chris" (about

Boy Kill Boy

singer Chris Peck), which features lush instrumentation and a soaring chorus that just begs to be played incessantly on the radio.



Myspace

: Apartment


Audio

: "My Brother Chris"