SXSW Preview: Cold War Kids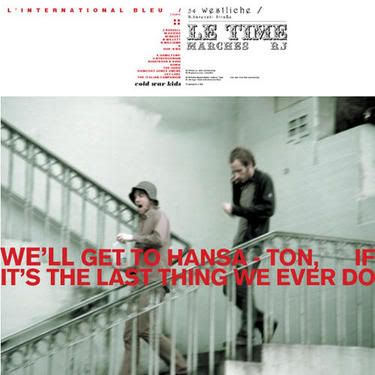 According to the band, they are called Cold War Kids because "We're all Cold War kids. My father is, and I am. Unless you were born after '91 of course, in which I'm sure some of our listeners are going to feel left out."

The band was just written up in Spin's profile of the burgeoning Silverlake, Los Angeles scene, and they just finished a residency at LA's uber-hip club The Echo. For all of those who have ever wondered what it would be like if Thom Yorke took the reins of the Velvet Underground, than this is your band. They are a playing a ton at SXSW, so there is absolutely no reason to miss these guys!

Mar 11 2006: DETROIT BAR RECORD RELEASE SHOW! Costa Mesa, CA
Mar 13 2006: The Casbah w/ The Joggers San Diego, CA
Mar 14 2006: Vaudeville Cabaret w/ The Joggers Tuscon, AZ
Mar 15 2006: Cavern Club Dallas, TX


Mar 16 2006: SXSW - Spaceland/Indie 103/Ticketweb Party @ Antones Austin, TX




Mar 16 2006: SXSW - Fader Magazine/Levis Party @ Trading Post Austin, TX




Mar 17 2006: SXSW - Hell Yeah Showcase @ The Drink Austin, TX




Mar 17 2006: SXSW - Fiasco Friday @ The Peacock Lounge Austin, TX


Mar 21 2006: EARLY SHOW @ KNITTING FACTORY w/ Tapes N Tapes Los Angeles, CA

Buy:

Mulberry Street EP


MySpace: Cold War Kids
Audio: "Heavy Boots"