Tuesday, March 07, 2006
Happy Birthday...!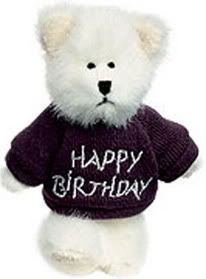 It's Ashley's [Rock Insider] birthday today, so make sure you send her lots of candy and cake!
Exitfare Contact:
MySpace
Twitter
E-mail Dany
E-mail Beth

Send me your track
Interview Archive
Pull In Emergency
Elle Milano
Mellowdrone
The Lashes
Giant Drag
The Brakes
The Capes
Tom Vek
the mp3s provided are for preview purposes only. if you like what you hear, go to the show or follow the link to buy the album or single. also, i will be glad to remove an mp3 if you are the owner of the file and are unhappy with its appearance here. thanks!
Listen
Breakthru Radio
Indie 103
KCRW
KEXP
WOXY.COM
Good Times
1234 Fight
The 405
A Little Electricity
Absolute Noise
Arcane Radio Trivia
Badical Beats
Big Stereo
Bradley's Almanac
Brooklyn Vegan
Cartoon Music For Superheroes
Clicky Clicky
DJ Eddie O
Drop the Phone
Drowned In Sound
Falling and Laughing
Falling Without Knowing
Fingers Become Thumbs
Fluxblog
Fucking Dance
Funny or Die
Future Sounds
Gorilla vs. Bear
Headphone Sex
The Hype Machine
I Rock I Roll
Indie Music Filter
It's a Trap
It's Getting Boring By the Sea
Keeping C86 Alive
Know Yr Product
Lefsetz Letter
Little Radio
Look at Me, I Made a Blog
mp3 Hugger
Music Is My Boyfriend
My Pop Roks
New York London Paris Munich
Not Ed's Blog
Nothing But Green Lights
Oh No They Didn't
Open All Night
Part of the Queue
Pink is the New Blog
Prefix
Real Horrorshow Tunes
Rock Insider
Ryan's Smashing Life
Scatter O' Light
Separated By Motorways
Shared Satellite
So Much Silence
Sock Formation
Songs By Toad
Stereogum
Stranded In Stereo / SIS Blog
Sup
Swedes Please
Television Without Pity
That's Enough Cowbell
Timorous Me
To Die By Your Side

Previous Posts