Dogs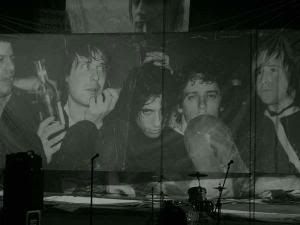 Fuss over East London's Dogs came to a fever pitch last August when the group dropped their debut

Turn Against This Land

in the UK and dropped a ton of great singles. The only catch here is that I totally missed out on it and would have never noticed them if it I hadn't stumbled upon the absolutely brilliant "Tuned to a Different Station" on a blog. It's a rousing pub rocker that's instantly quotable and reminded me of why I love The Crocketts and [early] Stereophoniocs. The rest of their debut is filled with tunes just like it, and while putting together a list of all of the SXSW parties earlier [and pulling my hair out because there are so many!], I was hoping I'd see them listed, but no such luck -- they're on tour in the UK with no current plans to come to the States.

MySpace: Dogs
Audio: "Tuned to a Different Station"
Audio: "London Bridge"