Islands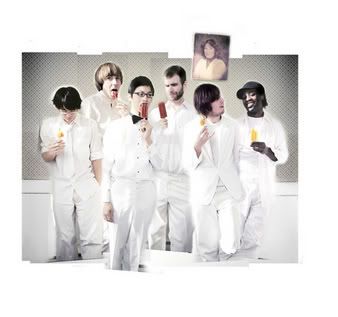 Nick Diamonds and J'aime Tambeur, who have previously whipped the scene into a frenzy in The Unicorns, are back with Islands, a project that also boasts Subtitle and Busdriver among its members. As can be expected,
Return To The Sea
is all over the place, and at times it is downright annoying, but if there is one constant that runs throught all of the songs, that is pure pop perfection. "Rough Gem" is sweet and fragile, "Humans" layers horns into the hooky mix and "Where There's A Will There's A Whalebone" takes guitar pop and gives it a hip hop makeover.

The band is currently on tour with Metric and their debut
will be available March 21st on Equator Records.

Mar 4 2006: Surface/Ottawa, ON


Mar 7 2006: The Roxy/Boston, MA


Mar 9 2006: 9:30 Club/Washington, DC
Mar 10 2006: Webster Hall/New York City, NY
Mar 11 2006: Starlight Ballroom/Philadelphia, PA
Mar 12 2006: Cat's Cradel/Carrboro, NC
Mar 13 2006: 40 Watt Club/Athens, GA
Mar 15 2006: Gypsy Ballroom/Dallas, TX


Mar 17 2006: Carribean Nights (SXSW Showcase)/Austin, TX


Mar 21 2006: House of Blues San Diego, CA
Mar 23 2006: Henry Fonda Theatre/Los Angeles, CA
Mar 24 2006: The Fillmore/San Fransisco, CA
Mar 26 2006: Wonder Ballroom/Portland, OR
Mar 27 2006: The Showbox/Seattle, WA

Pre-order:

Return To The Sea


MySpace: Islands
Audio: "Rough Gem"