This Town Needs Guns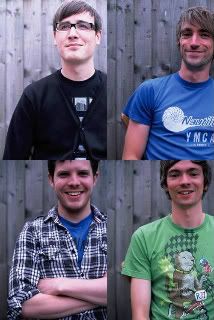 Myspace
//
"Baboon"
[mp3] //
"Panda"
[Video]
Oxford's math-heads
This Town Needs Guns
are about to embark on a tour of the UK in support of their debut album,

Animals

, which is out on October 13th through
Big Scary Monsters
. This tour seems to be hitting every corner of the UK and as well, the band will be sharing the stage with some top quality bands -- Rotary Ten, Pulled Apart By Horses, and Tubelord, just to mention a few. The CD will be available to pre-order from the label site this weekend, and on sale at all shows from September 18th onwards.
The band's debut album should do well to further the band's mastery of the math-pop song, as evidenced by several winning early singles. One thing that sets them apart from contemporaries Foals is that they evoke the more polished Chicago sound, at times coming off like Ghosts and Vodka with lyrics.
16.09 - London, White Heat @ Madame Jojo's
17.09 - Birmingham, Flux @ The Yardbird
18.09 - Leeds, The Library
19.09 - York, The Basement
20.09 - Edinburgh, Henry's Cellar Bar
21.09 - Glasgow, The 13th Note
22.09 - Middlesbrough, Dr Browns
23.09 - Newport, Lincoln, The Turks Head
24.09 - Manchester, Sacred Trinity Church
25.09 - Leicester, The Firebug
26.09 - Sheffield, The Shakespeare
27.09 - This Ain't No Picnic Festival @ King's College, LONDON w/ Future of the Left + Instruments + Bearsuit + Tropics + more
29.09 - The Railway Rifle Club Inn, PORTSMOUTH w/ Tall Ships + Luke Leighfield
30.09 - Downtown Diner, ASHFORD w/ Sparrows + Elephants
01.10 - The Queen Charlotte, NORWICH w/ Calories + Hair Traffic Control + Battlements
02.10 - The Swan, IPSWICH w/ Tupolev Ghost + Battlements
05.10 - Hockley Hustle @ The Bodega Social, NOTTINGHAM w/ Tubelord + Pulled Apart by Horses + The Maple State + more
10.10 - The Fighting Cocks, KINGSTON w/ Rotary 10 + more
11.10 - Oxford, Carling Academy
14.10 - Bardens Boudoir, LONDON w/ Maps and Atlases + Tropics
15.10 - Lennons, SOUTHAMPTON w/ Venice Ahoy + I See Sparks
16.10 - Kruger @ Clwb Ifor Bach, CARDIFF w/ tbc
29.10 - Start The Bus, Broadmead, BRISTOL w/ The Light Sleepers + Instruments
30.10 - The Good Ship, Kilburn, LONDON w/ Maybeshewill + Brontide + Peerless Pirates
Labels: Big Scary Monsters, Oxford, This Town Needs Guns