Skins on BBC America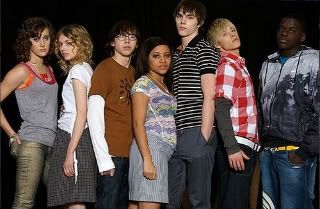 Myspace
//
"Skins" Playlist
I touched on it earlier this week, but forget the illegal downloads and dealing with the poor exchange rates --
"Skins"
is finally available in the States on BBC America. The show is airing Sunday nights at 10pm EST/9pm CST. To simplify it, "Skins" is a British teen dramedy focusing on a cast of sixth form college students (ages 16-18) in Bristol that is at times like "Gossip Girl" or "The O.C."
"Skins" trailer
While the first season has just begun to air in the States, two seasons have been shown in the UK with a third slated for early '09, albeit with a different cast. Read more about that
here
. Not only is acting and writing top notch, but the music is excellent, featuring the likes of Bloc Party, The Decemberists, Cat Stevens and most noticeably, The Gossip, whose "Standing in the Way of Control" has become an unofficial theme song for the show. In season two, a few bands made appearances on the show, including Crystal Castles, Born Ruffians and longtime Exitfare favorites Foals.
The cast talks about music
Labels: BBC America, Bloc Party, Skins, The Gossip