Eureka Machines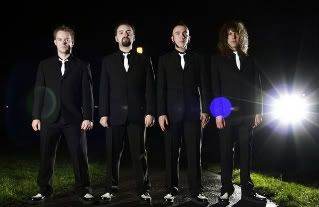 Myspace
//
"Being Good is Okay, But Being Better's Better"
[mp3]


Back in May I saw these guys play in Hull, and the fact that I returned alive is quite an impressive feat. It was a night full of billiards and Czech beer, but most importantly, it was the night which I heard the tunes that would make up their debut long-player,

Do or Die

. Don't let the fact that they all wear matching suits scare you off because it is definitely not a gimmick. Much like when your local football team all wear the same uniform, this Leeds quartet is simply getting into the game as a combined unit.


Borne of a want to write straight-up barbed wire pop, Eureka Machines is made up of players from acts like the Scaramanga Six, Sisters of Mercy, The God Damn Whores and even Marky Ramone's band. That experience has allowed them to create smart tunes that split the difference between the Beach Boys and Queens of the Stone Age, and already people are catching on, as evidenced by their heavily attended sets on the BBC Introducing Stage at the Reading and Leeds Festivals.


The band's debut is out now on
Wrath Records
in the UK. Look for them on the road this fall.


SEPTEMBER

Friday 12th - The Wheatsheaf, OXFORD

Saturday 13th – The Brief, CROYDON

Sunday 14th - The Charlotte, LEICESTER
Friday 19th – Vintage Rock Bar, DONCASTER

Saturday 20th – Shepherd's Bush Empire, LONDON (with The Wildhearts) – SOLD OUT
Thursday 25th - Dry Bar, MANCHESTER

Friday 26th - Riverside, SELBY
Saturday 27th - Brudenell Social Club, LEEDS

Sunday 28th - Viper Rooms, HARROGATE

Tuesday 30th – Music Box, MANCHESTER (with Laika Dog)

OCTOBER

Thursday 2nd – The Park, PETERBOROUGH (with Laika Dog)

Friday 3rd – The Asylum, BIRMINGHAM (with Laika Dog)

Tuesday 7th – Corporation, SHEFFIELD (with Laika Dog)

Thursday 9th – Rock Café, STOURBRIDGE (with Laika Dog)
Labels: Eureka Machines, Leeds, on tour, Wrath Records