I Say Marvin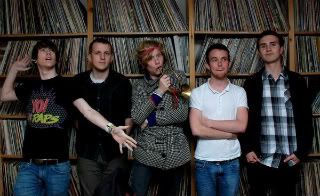 [Photo Credit: Rosie Foster]
Myspace
//
"Slow Motion Sheep Explosion"
[mp3]
Brighton outfit I Say Marvin recently had a bout with a name change, as they used to be called Marvin and the Gayes. According to an interview in Artrocker, band member Sam Power says about the change, "We got word from lawyers that Marvin Gaye's estate would kick off and sue us and one of the first things you learn when you start in the music industry is that you really shouldn't fuck with soul singers, especially when they are dead! At first we thought that it would be kind of funny to take them, but the money loss wouldn't have been, although if we won and Marvin Gaye had to change his name posthumously that would have been incredible!"
Easily described as excellent dancefloor pop, the band has a real knack for crafting for constructing memorable tunes with dramatic flair. With a few singles under their belt and gigs with The Automatic and Feeder, the band is making a name for themselves in the Southeast, including a recent recording session with friend and producer Hugh Jones (Echo & The Bunnymen, Dodgy, Hope of The States).
Labels: Brighton, I Say Marvin