School of Seven Bells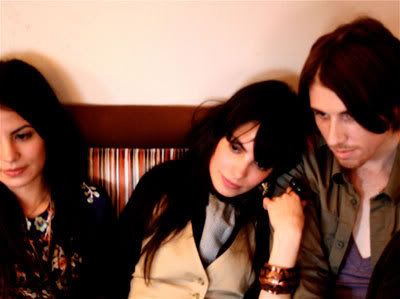 Myspace
//
"Connjur"
[mp3]
If you're really wondering what music sounds like while you're on drugs, but you're not down with the whole addiction/destroying your body thing, then check out Brooklyn's School of Seven Bells. They're a band that knows their way around a tune, as Ben Curtis did time with the Secret Machines and twin sisters Claudia and Alejandra Deheza played in On! Air! Library! While it's tough to not judge an act by where they came from (Secret Machines suck), just trust me on this -- the band is good.
When I first heard "Connjur," I was reaching for a sleeping bag, but a week later when it came up again on my iTunes, I was demanding to hear the rest of the record. They're a band that's not short on weirdness, as evidenced by some of their upcoming support slots, including dates with M83 and Black Moth Super Rainbow. Debut album Alpinisms will be out on Ghostly International later this year.
09/27 Boston, MA - Urban Outfitters Newbury St.
10/17 Pontiac, MI - The Pike Room
10/18 Kalamazoo, MI - State Theater^
10/22 Brooklyn, NY - Cake Shop (CMJ)
10/24 New York, NY - Levi's Fader Fort NYC (CMJ)
10/25 New York, NY - Le Poisson Rouge (CMJ)
10/28 London, UK - Old Blue Last
10/29 London, UK - The Social
11/11 Atlanta, GA - The Earl +
11/12 Charlotte, NC- Tremont Music Hall +
11/13 Washington, DC - Black Cat +
11/14 New York, NY - Webster Hall +
11/15 Philadelphia, PA - Starlight Ballroom+
11/16 Northhampton, MA - Pearl Street +
11/18 Boston, MA - Middle East Downstairs +
11/19 Montreal, QC - Studio +
11/20 Toronto, ON - Opera House +
11/21 Chicago, IL - Bottom Lounge +
11/22 Minneapolis, MN- Triple Rock +
11/25 Seattle, WA - Neumo's +
11/26 Vancouver, BC - Richard's on Richards +
11/27 Portland, OR - Doug Fir +
11/28 San Francisco, CA - The Fillmore +
11/29 Los Angeles, CA - Fonda Theater +
+ w/ M83
^ w/ Black Moth Super Rainbow, Mates of State
Labels: Brooklyn, School of Seven Bells, Secret Machines