Munch Munch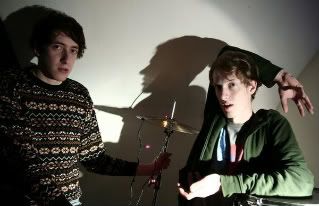 Myspace
//
"Endolphins"
[mp3]
Last year, I got hooked on the British teen drama Skins and while I was in the country this May, I picked up both of the series on DVD. It was nice to finally sit down and watch all of the episodes in order, uninterrupted, without trying to track them down in seedy corners of the internet or catching them in ten minute bursts on YouTube.
I hadn't thought about the show in months until last night when I stumbled upon the first series being shown on BBC America, albeit edited for cable television consumption. What am I getting at here? Well, the show is based in Bristol and I started to wonder what good bands were from that city.
Munch Munch are a quartet hailing from Bristol, and they've been a band for roughly two years. The band revolves around Thomas and Richard, who record in their bedroom using whatever they find lying around, creating spectacularly shambolic music that's much like a house of cards. If you touch it, then it just may fall down. They're an excellent outfit that don't deserve to exist in any kind of normal universe -- good time party music for all of you misfits.
Labels: Bristol, Munch Munch, Skins