Little Britain USA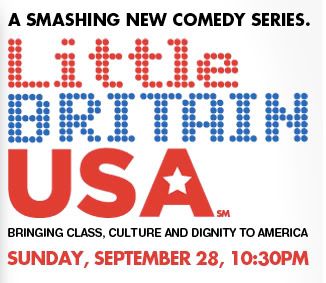 Myspace
//
Preview Trailer
[Video]
The hit British show Little Britain is coming to the US via the six part, 30 minute comedy series
Little Britain USA
. Filmed in the US earlier this year both on location, in North Carolina, and in an LA studio, the HBO series will feature familiar Matt Lucas/ David Walliams personas from their original UK show, as well as a slew of new characters. Guest stars slated to appear include Rosie O'Donnell, Vivica A. Fox, Harry Lennix, and Sting.
Little Britain USA premieres Sundays at 10:30 pm beginning 09/28 (after Entourage), encoring Tuesdays (late night), Wednesdays (prime), and Fridays (late night).
Also, I will be giving away one Little Britain-themed flash drive, of which are mocked up to look like
Vicky
or
Carol
. First person to e-mail me wins.
Labels: HBO, Little Britain