New Music For The Weekend: Show Preview Edition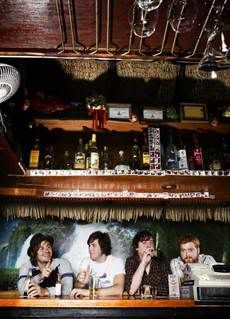 Limbeck
:

With their self-titled third album, California group Limbeck continue to improve on their blend of alt-country and indie pop. The band opens for Hot Rod Circuit tomorrow night at the Middle East Down.
[mp3]
"Big Drag"
Illinois
:

I am hoping this band's album comes soon because their recently released EP was too much, too soon. These guys have a ton of potential, and 2007 will still be their year. If you don't have a ticket to their show at The Paradise on Sunday night [they're opening for The Kooks], then you're out of luck -- it's been sold out for weeks.
[mp3]
"Alone Again"
[Photo Credit: Stefano Giovannini]
Be Your Own Pet
:

Taking a break from working on their new album, Nashville's Be Your Own Pet is spending most of this month on the road with Arctic Monkeys. If you want to go, you'll have to keep an eye out for tickets on Craigslist -- this one has also been sold out for weeks.
[mp3]
"We Will Vacation, You Can Be My Parasol"