Battle + Shows in Boston This Week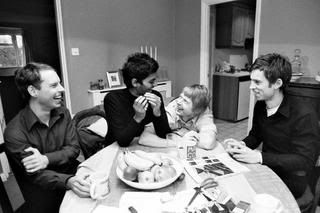 A few weeks ago, I re-discovered the band
Battle
on my iPod. I remember playing their songs non-stop about a year ago, but then I inexplicably forgot about them. It's absolutely criminal, because their songs are so so good. Stylistically, Battle is a cross between Boy Kill Boy and The Cure. Their songs are tightly constructed pop songs that carry a punch, but they feature these devastating lyrics hidden in verses that remind me of Robert Smith at his best.
On "Tendency,"
Jason Bavanandan
asks the listener to
"l
et me drink myself to death to forget about the rent"
but later pleads not to give up hope because
"
I'm still the boy you knew, the boy who threw his arms around you."

Lyrics like this will

tie your stomach up in knots if you let them, but at least you'll be dancing at the same time.



[Myspace]

Battle


[mp3]

"Tendency"



This Week In Boston


04.30: Only Crime/Much The Same @ Middle East Up
04.30: The View/Eastern Conference Champions @ TT The Bears
05.01: El-P @ Middle East Down
05.01: The Almost/Paramore/This Providence/Love Arcade @ Avalon
05.02: Trans Am/Zombi @ Great Scott
05.02: Age Rings/Everyday Visuals @ TT the Bears
05.02: Brother Ali/Psalm One @ Middle East Up
05.03: Under the Influence of Giants/Young Love/Liam & Me @ Middle East Up
05.04: The Pill @ Great Scott
05.04: Ted Leo/Rx & Love of Diagrams @ Avalon
05.04: The Cribs/The Luxury/Ra Ra Riot/White Rabbits @ Middle East Down
05.04: Peter Bjorn & John/Fujiya & Miyagi @ The Paradise
05.05: Viva Viva/Helms @ Middle East Up
05.05: Sunset Rubdown @ Middle East Down