What's Your Rupture?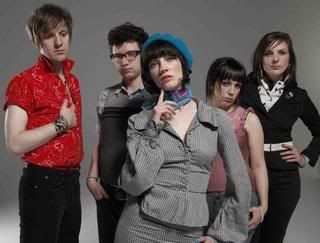 In my early teens, right after I had discovered indie rock and college radio [big ups to WXAC], my parents gave me their old turntable, one that I had little use for at first. My parents' record collection consisted of Skynyrd, Dylan and The Allmans, all of which of were the anti-Dany. While most of my friends collected CDs, I began to track down my favorite bands on vinyl, especially all of the great, limited-edition 7"s available, from the Sub Pop singles club to spinART's Pop Licks.

A decade and a half later, and I am almost fed up with CDs, but NYC label What's Your Rupture? hasn't forgotten why vinyl kept all of us indie kids occupied in the '90s. Last year the label dropped four limited edition vinyl only EPs, from Sweden's Love Is All, whose cover was silk-screened in the label owner's apartment to Sheffield's brilliant and stylish The Long Blondes [pictured] to underground faves Comet Gain. These are bands that beg to be listened to on vinyl, as the sound not only gets louder but also expands as the volume is bumped up.

For those of us who were either too slow, have retired that turntable or just want all of these singles on one handy disc, WYR? is hooking us up on February 6th with the release of

Imagine The Shapes

. The four bands featured, including caUSE co-MOTION, have been on the tip of many people's tongues for the past year, but this should be the breakout year for all of them, and this great label as well.


The Long Blondes "Giddy Stratospheres"



[MySpace]

What's Your Rupture?
[mp3] Love Is All "Make Out Fall Out Make Up"


[Video]

Love Is All "Make Out Fall Out Make Up"


[mp3]

The Long Blondes "Giddy Stratospheres"