2006: Exitfare's favorite songs
I think it's a good time to break out my parade of lists, and there is no better way to start than the songs which killed my ipod this year. This is by no means a definitive list of my favorite songs, just the ones that managed to stand out above and beyond. Also included are tracks that are early signs of greatness from bands, some of whom will no doubt blow up next year.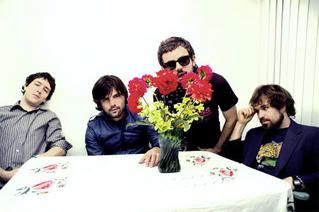 [Photo Credit: Hilary Hulteen]


Division Day "Tigers"

[MySpace] / [mp3]
It's easy to single this track out as my favorite track of the year, as so many things make it stand out. The keyboards bounce, the guitars buzz and the lyrics are among the band's most quotable. Division Day finally broke through this year, but 2007 will be all theirs, with the official release of their debut album on Mercy Records and shows across the country that willl help elevate them from blogger favorites to everyone's favorite.


American Princes "Never Grow Old" [MySpace] / [mp3]
The Kooks "Sofa Song" [MySpace]
Cold War Kids "Hospital Beds" [
MySpace
]
Bloc Party "The Prayer" [
MySpace
]
Sky Larkin "Somersault Notes" [MySpace] / [mp3]
Idlewild "If It Takes You Home" [
MySpace
] / [mp3]
Assembly Now "Out On 24s" [
MySpace
] / [mp3]
The Fratellis "Chelsea Dagger" [
MySpace
]
The Streets "Prangin' Out [f/Pete Doherty]" [
MySpace
]
The Klaxons "Atlantis To Interzone" [
MySpace
] / [mp3]
Rosa Alchemica "Close To My Heart" [MySpace] / [mp3]
Luxembourg "(I Need) A Little Bit More (Than You Can Give Me)" [
MySpace
] / [mp3]