Letters & Colours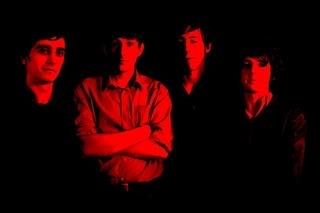 I've been gushing a lot about Leeds over the last couple of months, but I felt like I should take a break this week to recognize another northern city that has produced some insanely popular bands over the years--Sheffield. You probably know Sheffield as an industrial shit-hole (as it's been described to me by friends), a city so ugly that George Orwell proclaimed it to be "the ugliest town in the Old World." You probably didn't know that the city is also the birthplace of such varied groups as
Def Leppard
,
The Human League
,
The Thompson Twins
,
Pulp
,
The Long Blondes
,
Arctic Monkeys
, and
Milburn
,
which is pretty crazy if you really think about it.
One more band should be added to that list of great Sheffield bands,
Letters & Colours
. The band has been around in one form or another since 2004, however they've really only started to emerge from their shell more recently by playing regular shows and finally releasing their first single in April. This long development seems to have really served Letters & Colours well, because their songs are just incredible. They take ultra lush, melodic riffs and then set them on repeat creating this intensity that just builds and builds as the energy of the band ebbs and flows. This is then offset by unemotional monotone singing, which ultimately creates this dark, brooding sound that is quite interesting. If you like bands like
Joy Division,
Editors
,
Interpol
, and even
Favourite Sons
, then you will undoubtedly love this band. Period.

PS. Check out their myspace and their official website for a bunch of free downloads.

Myspace:
Letters & Colours
Audio:

"Confrontation" (YSI link, sorry!)