Boston: Shows [Week of 11.20.06]
11.20: Dead Meadow @ Middle East Up
11.20: Tahiti 80/Brookville @ The Paradise Lounge
11.20: New York Dolls/Supersuckers/The Charms @ Axis

11.21: Small Sins/Little Ones @ Middle East Up
11.22: The Sounds/Shiny Toy Guns @ Axis

11.25: The Glass Set @ Great Scott
11.25: Piebald @ Middle East Down

Time to get psyched for the holiday season! Thursday is Thanksgiving, and this week is basically autopilot to the holiday -- and the few days off will be much appreciated, as work has been pretty much insane this year. I am only going to post a few times this week, including the oft-delayed CMJ wrap-up. I know, it's late, get over it. In a couple of weeks I am going to begin my year end wrap-up and then delve into a preview of next year.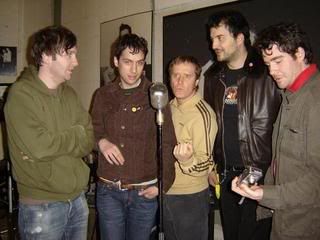 11.21:

Small Sins

/

The Little Ones

@

Middle East Up
Yeah cool, we all know that Canada has been shitting out like 10,000 bands every month the past few years, but not all of them are "collectives," psuedo hippies or freak-folk -- some of them are actually interesting and engaging, so leave it up to Astralwerks to discover and cultivate Toronto's Small Sins. Formerly known as The Ladies And Gentlemen, the group is the brainchild of Thomas D'Arcy, and merges the literate lyricism of

The Smiths

with the electronic trickery of

New Order

and

Devo

. Make sure you show up early for the newest members of Astral -- the super sunny and poppy The Little Ones. [18+; $8; 9pm]


MySpace:

Small Sins


Audio:

"Stay"