Boston: Shows [Week of 11.13.06]
11.13: IV Thieves @ T.T. The Bears
11.13: The Strays @ Middle East Up
11.14: The Twilight Singers/Stars of Track And Field @ The Paradise

11.15: Lupe Fiasco @ Middle East Down
11.15: Annuals @ T.T. The Bears
11.15: Make Believe @ Middle East Up
11.15: Amy Millan/Eric Bachmann
@ The Paradise
11.16: The Lot Six/Age Rings/Eyes Like Knives/Mittens @ Middle East Down [This is the Lot Six's last show]
11.16: Helms @ Great Scott
11.16: Jamie Lidell/Kid Koala
@ The Paradise
11.16: Centro-matic/Bobby Bare Jr. @ Middle East Up
11.16: OK Go/The Cinematics @ Avalon

11.17: Rev. Glasseye @ T.T. The Bears
11.17: Robert Pollard/Backyard Tire Fire
@ The Paradise
11.17: Brian Wilson @ The Orpheum

11.18: Aberdeen City/Army Of Me/Faces On Film @ Great Scott
11.18: Sia/Greg Laswell
@ The Paradise
11.19: Beirut/A Hawk And A Hacksaw @ Middle East Down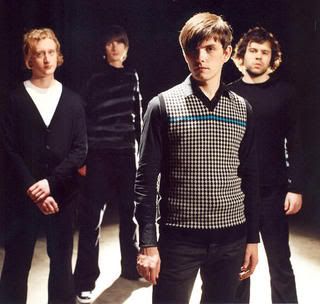 11.16:

OK Go

/

The Cinematics

@

Avalon
This Thursday night, the Boston Phoenix is celebrating their 40th anniversary of being one of the country's landmark alternative weeklies, and while there is plenty of obvious reasons to check out this show -- beer, buddies and those treadmill-rocking dudes

OK Go

, I urge you to show up early. One of the biggest surprises of this year's CMJ was catching a mid-afternoon set from Glasgow's The Cinematics, a band that draws on the best of the current crop of UK dance punk --

The Rakes

,

Editors

,

White Rose Movement

, etc. The band's Stateside debut is slated for next year, but make it out early to catch them on this very short tour.


MySpace:

The Cinematics


Audio:

"Break"