CMJ 2k6 Preview: The Changes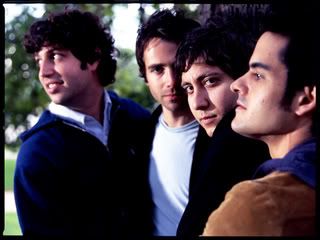 I'm running out the door to hit the
Brooklyn Vegan
party at Fontana's, but I wanted to do a quick post about one of the bands that will be playing said event.
The Changes
are a fantastic indie rock band from Chicago that has been garnering rave reviews for their tremendously fun live shows and commanding pop precision. Their music will get you on your feet, but what'll stay with you are the infectious melodies and the lyrics that, like, omg totally mirror your own life. Stand out tracks include the bouncey "When I Wake" and the somber "When I Sleep," both of which are available on their EP and their recently released LP,

Today Is Tonight

. The Changes are definitely a band that should be on your "must-see" list, luckily you'll have loads of opportunities before the close of CMJ festivities tomorrow.
Nov. 3 Brooklyn Vegan Party @ Fontana's (with iForward, Russia! and Chin Up Chin Up) 1:55pm
Nov. 3 @ Union Hall (with Division Day)
Nov. 4 @ Rebel (with the Mooney Suzuki and Margot and the Nuclear So and So's)



Buy:

Today Is Tonight




Myspace:

The Changes


Audio:

"When I Wake"