We Are Scientists/Art Brut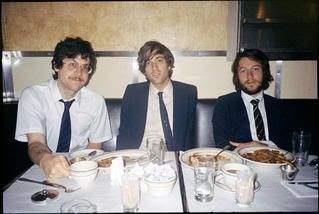 Everyone knows
We Are Scientists
and
Art Brut
. Both bands absolutely blew up this past year due to their infectious songs, big riffs, delightfully witty lyrics, and strategic use of facial hair. But did you know that the two bands are on the road together this fall? The tour is being called "The Also-Ran Buzz Bands Tour." Though I'm sad to report that We Are Scientists won't be playing the Boston show, I do have good news:
THE TWO BANDS COVERED EACH OTHER. Seriously. You probably think I'm lame to have capitalized that, but whatever. Make sure to check out the tracks below.
We Are Scientists/Art Brut Tour Dates:
Oct. 5 -- Portland (Hawthorne Theatre)
Oct. 6 -- Vancouver (Commodore)
Oct. 7 -- Seattle (Neumos)
Oct. 9 -- Salt Lake City (In The Venue)
Oct. 10 -- Denver (Bluebird)
Oct. 11 -- Lawrence (Granada)
Oct. 12 -- Chicago (Metro)
Oct. 13 -- Detroit (Magic Stick)
Oct. 14 -- Toronto (Opera House)
Oct. 15 -- Montreal (Le Tulipe)
Myspace:
We Are Scientists
Myspace:
Art Brut
Audio:
We Are Scientists "Bang Bang Rock N' Roll"
Audio:
Art Brut
"The Great Escape"